There is a mistake the majority of apartment owners fall in. They take cleaning for granted. We mean that they see a small place and think it is not too essential to do it. Why should they? It is small. Dust build-up is not a big deal. Is it? Well, we are here to correct those thoughts. A small place tends to build up more dust than other places, and if you postpone cleaning, it will be worse. Here we bring you some Apartment Cleaning Tips that will help you. In case you don't wanna follow them, we recommend you the easiest path: Hire professional cleaning services in Chicago. You would not regret it.
Don't be afraid to move things around
When we hear the word "apartment," we think about something that is comfortable. Yes, a house also offers that, but it is more of personal comfort in an apartment. It is a small place that you put your heart into. You create its image, put things wherever you want, and like how they are. Why move them? As a recommendation, don't be afraid to relocate some of your belongings. You have no idea how much dust gathers in a small place and under much furniture. It is good to shake things up once in a while. If you don't have the time, you can always look for a maid service to help you out.
Gather the necessary implements for the job
To improve the cleaning of your apartment is very important to gather different implements to attend to various surfaces in your space. There will be glass, tile, wall, wood, metal, and each one has a good product for his type.
General cleaning spray
Glass cleaners
Paper towels
Sponge
Trash bag
Vacuum cleaner
Dusting brush
Mop and bucket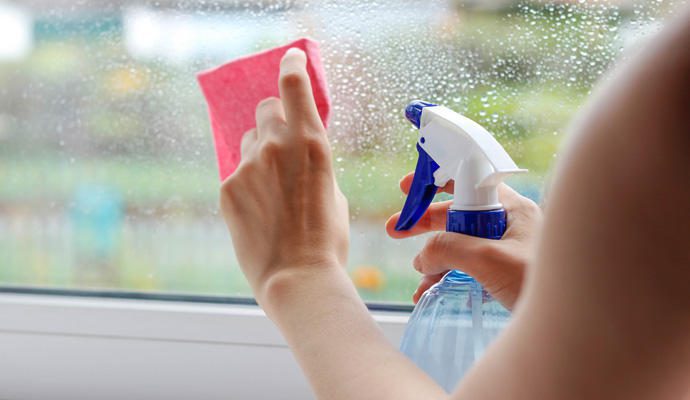 Start putting everything in its place
Remember that if you have a disordered space, you will not clean anything. Start collecting the dropped clothes and the dishes out of the kitchen. When all the stuff is in the place it belongs, it will be the best moment to start the cleaning phase. If you need another hand, count on the professionals.
Each place in its time. Cleaning is done from top to bottom.
Two basics from cleaning: You can't clean simultaneously every room of your house. This will be a mess. If you clean the kitchen and go to the living room, the work will be done efficiently. It doesn't matter how much time you spend in each room. By rule, if you try to clean to places at the same time, the duration will be more in every case.
Then, the second golden rule. Cleaning is from top to bottom, so that means that you should not worry about cleaning the floor before the tables. If you tend the upper places first, the dust will go to the floor so you can clean it next. If you do it oppositely, the dust on the table will dirty the floor you have cleaned before. Don't do that. 
In the current world situation, we might be afraid to let people inside our apartments. However, most cleaning companies follow several regulations to ensure your safety. You should not hesitate when looking for cleaning services in Chicago. They will take a load off your back and make your house as clean as ever. Apartment Cleaning can be as easy as you want it to be. If you would like to know about what we offer, contact us and book today! You won't regret it. Begin this 2022 with a clean apartment, and follow us for more apartment cleaning tips.