Welcome to our amazing Maid Service Alsip IL. We will make your life easier than ever to keep your home clean and tidy. For many homeowners, life can get hectic, leaving them with little time to deep clean their homes. That's where we come in! Because, our professional staff of experienced maids can help take the burden off of your shoulders, and make sure your home is sparkling. Therefore, we provide a thorough, top-to-bottom cleaning service that covers every inch of your home.
View Pricing and Book Online
READY TO BOOK YOUR CLEANING SERVICE IN ALSIP, IL OR SUBURBS?
#1
Maid service near Alsip, IL
anthony bedreñana
2023-11-22
I was going through a tough time and needed help cleaning my house quickly. The Quick Cleaning team was there for me when I needed them the most. They sent over a group of friendly and professional cleaners who were able to get my house looking spotless in no time. I was impressed by their attention to detail and how quickly they were able to work. I would definitely recommend Quick Cleaning to anyone who needs fast and reliable cleaning services.
Laura Camila Torres Lugo
2023-11-20
I had the pleasure of hiring Quick Cleaning to prepare my home for my family's Thanksgiving celebration, and I must say the cleaning service was outstanding! The cleaners did an impeccable job, leaving my house spotless and shining. Not only was the quality of their work remarkable, but the cleaner assigned to my home was also incredibly friendly and accommodating. Their enthusiasm and attention to detail made the entire cleaning process a breeze. I highly recommend Quick Cleaning to anyone in need of a reliable and efficient cleaning service.
Liliana Macias
2023-11-16
They did an AMAZING job! I work a ton and need help maintaining my apartment clean. I've tried other cleaning companies but this one has been THE BEST! From the people that coordinate the cleaning to the folks that clean they are incredibly helpful and thorough. Coming home to a clean apartment after a long work day is truly the best feeling in the world. Highly recommend them!
I recently hired quick cleaning, and I'm thrilled with the results. The team was punctual, professional, and left our kitchen spotless. Every corner was tackled, equipment sparkled, and the communication was seamless. The floors were left shining and the women who came were very friendly and always had a big smile on their face, would certainly recommend, very hard workers!!
Quick Cleaning exceeded our expectations with their commercial cleaning service at our restaurant. Every corner sparkled, and the attention to detail was impeccable. Their team's efficiency and professionalism transformed our space, leaving us thoroughly impressed and satisfied. Quick Cleaning is now our go-to for maintaining a pristine environment.
Quick cleaning keeps the process simple and easy.
Troy Wilcoxson
2023-11-04
Quick cleaning is very easy to use for my Airbnb business. They complete cleanings on time and leave the condo looking great for the next guests. They also have great communication in between cleanings to check in and make sure everything is going well.
Zach Naccarato
2023-10-28
As a property management company, hiring the team at Quick Cleaning has been a positive step in our business. They are responsive, communicative and we love that they're progressive and always open to feedback. They pay attention to detail and have been a great team to partner with. Daniel is our account manager and always does a great job communicating. We recommend working with them!
Maid services Alsip,IL has professionals trained in all aspects of cleaning, from dusting to vacuuming and even spot cleaning. Because, we pay special attention to all the details in your home, even the hard-to-reach places. So, we use top-of-the-line cleaning products that are safe for your family and pets, so you can rest easy knowing that the cleaning is done right.
Maid Service Alsip, Cleaning Frequency:
Maid Service Alsip IL - AIRBNB Cleaning Service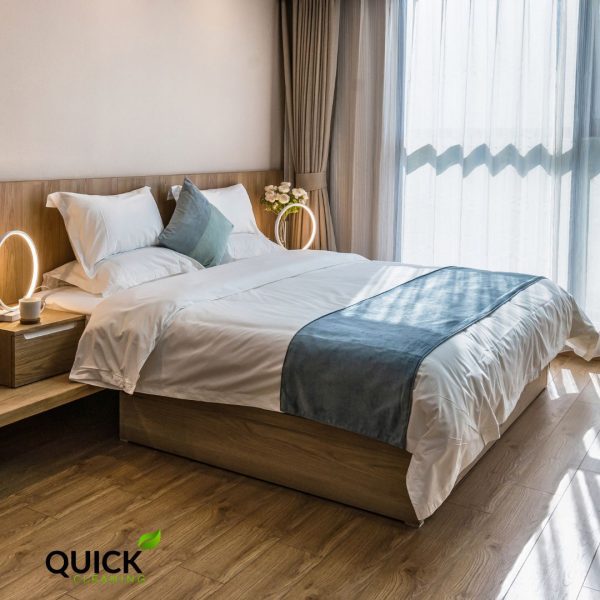 Cleaning Services Alsip, IL
We offer services of Airbnb cleaning Alsip, IL. Our team of cleaners will make sure your property is spotless, because we always are attentive to detail.
And because Airbnb guests expect a level of cleanliness, our team strives to exceed their expectations. Therefore, we use high-quality cleaning products to ensure a quality job. In addition, we deep clean all surfaces, furniture and carpets, as well as scrub and disinfect floors, bathrooms and kitchens.
Plus, we adapt to your schedule and attend to any request or need you may have. Also, we provide fast, reliable and efficient service with a 100% satisfaction guarantee.
Hence, we have a very easy booking process; just give us a call or send us an email with your preferred dates, and we will be on our way!
SAVE 10% ON YOUR FIRST CLEANING SERVICE.
Stressed about moving out? Welcome to our Alsip move out cleaning service. We are here to help you end up with a sparkling clean finish. Because, we specialize in eliminating the chaos of packing and moving. Plus! our experienced and well-trained cleaning staff uses a variety of methods to make sure your house or apartment is spotless and ready to move in. In addition, we perform everything from basic cleanings to carpet and bathroom disinfecting, as well as deep cleaning of exteriors such as windows and walkways.
So, no matter how big or small the task, rest assured that our team of professionals will guarantee the highest quality results in the shortest amount of time possible. Because, we value your time, which is why we will only send the equipment necessary to complete the task at hand. Plus!, our affordable prices are kept at a flat rate, so you know exactly what you're getting for your money. So, are you ready to move out?
LOOKING FOR A TOP-NOTCH MOVING CLEANING SERVICE?
let us take care of everything
Maid Service Alsip IL - OUR COMMERCIAL CLEANING WORK
Trusted by thousands of the nation's leading retail companies.
Quick Cleaning is the #1 Cleaning Contractor for Maid Service Alsip IL
SAVE 10% ON YOUR FIRST CLEANING SERVICE.



Have more questions?

Call us 773-800-2524
Mon – Sun 09:00am – 7:00pm.
We are the best Maid Service Alsip IL
With a population of 20,000, Alsip certainly, is a busy town in Cook County, and a Maid Service in Alsip IL is needed. But don't worry, you can see the list of cities we serve and call us.
Don't see your city? Give us a call and we let you know. 
Plus! A professional and reliable service from our Maid Service Alsip IL awaits you on the phone. Also, remember that Office cleaning services are also available.