Ranked Best In Glendale Heights for 2 years straight!
24-HOUR SERVICE - NO CONTRACTS EVER
RESIDENTIAL CLEANING | COMMERCIAL CLEANING | JANITORIAL SERVICES
Quick Cleaning has over 12 years of experience providing cleaning services to a wide range of customers:
PREMIER GLENDALE HEIGHTS CLEANING SERVICE
If you own a home or business that needs a commercial cleaning services Glendale Heights neighborhood. Quick Cleaning is the service you need. We are the best cleaning service in Glendale Heights. We also serve the greater Chicago area and its suburbs.
In addition, Our cleaning programs are tailored to every client no matter how large or small. We take pride in providing professional cleaning services every time.
First... I contract using quick cleaning for 4 years, so, I hire them to clean my offices. So, I have never had a problem with them. Highly recommended.. Finally, i recommend it 100%.
Excellent customer service. Professional, reliable and efficient. I have been working with them for 7 months and it is a service that I highly recommend. So, They are very easy to work with.
Quick Cleaning is a first class service, they really are a professional service that cares about you. I recommend hiring them if you have cleaning problems in your office, they are reliable and quite discreet when working.
When i need to hire an office cleaning service in glendale heights, first when i needed a service that would accommodate my schedule, as I manage complicated schedules. So, I found quick cleaning and have not had any problems, I have been using them for 1 year now and I highly recommend them.
I have been using quick cleaning for 2 years because it is a reliable service, I can leave them alone in my office without any problems. I recommend them if you have a large office, they do the job very quickly and impeccably.
I have been using quick cleaning for 6 months to clean my home. It is a professional, honest and very fast service. They always leave my house smelling great. Finally this services is 100% recommended service.
LEAVE THE CLEANING TO THE EXPERTS
READY TO BOOK YOUR CLEANING SERVICE?
#1
Commercial Cleaning Contractor Glendale Heights
 How to book our Cleaning Services?
1. Book online or at 773-800-2524
3. Receive a 5-Star Cleaning Service
4. Manage everything online
You can quote online in under 60 seconds. Thereafter, we will be in contact with you to verify availability.  For commercial clients it is recommended you call us first to personalize your estimate.
Once we receive your request for cleaning service. We will confirm by email or phone and secure your date and time of service. So, Please be advised we collect full payment upon booking to guarantee service. 
We will call or text 30-45 min before arriving at your property. Our team of professionals is completely vetted and have been background-checked with a 5-Star Rating.
You can manage your recurring cleaning online by scheduling ahead of time. Leaving notes and booking more. Another service such as a deep clean, laundry service. In addition, Customize your cleaning by adding any extras.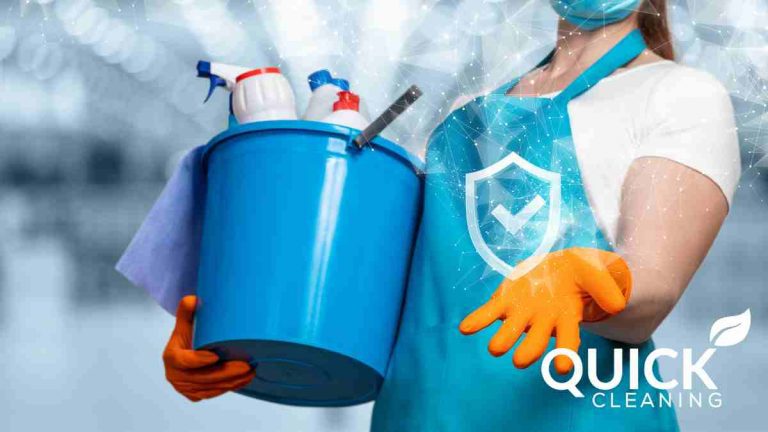 House Cleaning Glendale Heights
Apartment Cleaning Glendale Heights
Airbnb Cleaning Glendale Heights
VRBO Cleaning Glendale Heights
Office Cleaning Glendale Heights
Commercial Cleaning Services Glendale Heights
CALL US TODAY
Need a customized cleaning program?
Ranked Best Cleaning Services in Glendale Heights
Why work with Quick Cleaning?
CLEANING FEES
Pay by hour (2hr minimum) or a Flat Rate Cleaning Fee
100% QUALITY CONTROL
Get real-time updates along with before and after photos.
FLEXIBILITY
No contracts mean you can start, skip, stop anytime.
SUPPLIES 
All standard supplies and equipment provided. 
ON-CALL SERVICE
Our staff is ready to tackle same-day service requests
REMINDERS 
We provide multiple reminders of upcoming services.
GUARANTEED SERVICE 
Get peace of mind with our no cancellation guarantee
EXPERIENCE
Professional trained cleaners with 4+ years of experience
RESTOCK
We sell and deliver office cleaning supplies when you most need them.
TRUST 
BBB A+ rating and Google Verified Partner
Quality 
Over 12 years providing house cleaning services in Glendale Heights. As a result, our focus has always been to please our customers. So, we have countless satisfied customers who provide us with amazing reviews every day.
Affordability 
Competitive cleaning cost is our moto with our desire to fulfill all services. This is what puts us above the rest. Finally, making sure we provide customers a quality guarantee and satisfaction on every visit.
Safety
Quick Cleaning is a licensed and bonded business. Rest assured that your property and belongings are in the hands of vetted and professional cleaning staff.
Get A 5-Star Service
Today and Every Day
#1
In Commercial Cleaning Glendale Heights
Best Rates For Cleaning Services Glendale Heights
How does Quick Cleaning work?
You can call or email us whenever you need one of our cleaning services within our schedule. We arrive the same day to clean and disinfect with professionalism. Don't think twice and enjoy your free time by relying on a professional cleaning service.
Call us, we are here to help you 7 days a week. From 9:00 am – 7:00 pm.
Make Sure You Let Us Know
While we promise a spotless experience, there may be times when we miss a spot. So that, if the cleaning services you received failed to meet your standards, do let us know. Above all, we are a professional cleaning service. In addition, we take pride in the services we provide and appreciate your honest feedback. So, be aware that we can not remedy an issue that we are not aware of. 
FINALLY, ENJOY MORE OF GLENDALE HEIGHTS BY HIRING
OUR CLEANING SERVICE
Firstly, Glendale Heights is located in DuPage County in the state of Illinois. This relatively young village in the western suburbs of Chicago was just a collection of farms in the late 1950s. Now it is a modern residential community with ranch-style homes, sprawling parks and many shopping centers to visit, always boasting a charming streetscape.
Glendale Heights has a large South Asian community, which is reflected in the many Asian restaurants and supermarkets.
We are the service you need in Glendale Heights!
This place has three school districts, 15, 16 and 41. All of these districts are K-8 and feed into Glenbard Township district 87. Though there are three school districts, there is only one library district, the Glenside Public Library District.
The famous five-day of fun festival every July is held in Glendale Heights. So, enjoy all that Glendale Heights has to offer, leave your cleaning problems in the hands of professionals, contact us now!