Order And Cleanliness In Offices
A tidy and clean office is synonymous of good performance and execution of the work done. It is not the same to work in an untidy environment than in a clean and tidy space, since it helps us to be more productive, among other things. Order and cleanliness in offices
Contact us now and get your free quote!
Less is more: keep only the essentials
To maintain order and cleanliness in offices, the golden rule is to keep only the essentials. Also, get rid of everything that takes up more space than necessary, consider what you haven't used for months and what you really need in your day to day life. Mainly we recommend you our next post: New Hygiene Measures In Commercial Premises.
In addition, having only what you need in the office gives a sense of space and well-being that helps you to be more productive in the office. Also, the less stuff we have on the table, the less dirt will accumulate and the less we will have to tidy up in our day to day. We also recommend our next post: Why Is Cleanliness Important In My Business?.
Organize the office in a functional and practical way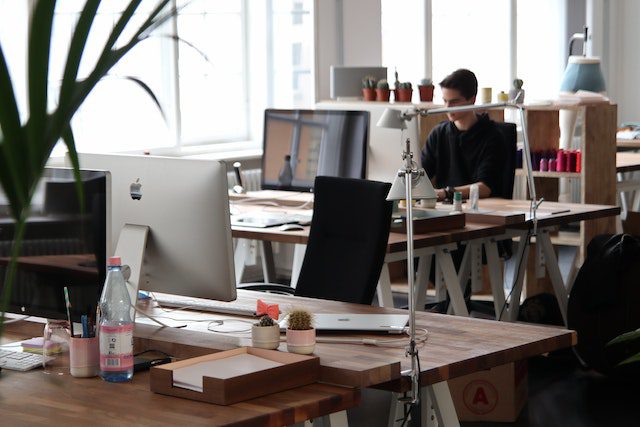 Another trick to keep in mind to keep the office tidy and clean is to organize it in an effective and functional way, that is to say, locate the furniture and objects that you use the most to identify them faster.
Do not let dirt and clutter accumulate, when you stop using an object, put it back in its place, so you get a daily order on your desk.
Keep your desk tidy and clean
Having a clean and tidy desk is essential to perform well and carry out our tasks correctly. Therefore, it is essential not to accumulate dirt on your desk. An essential trick is to review weekly the papers you may have on your desk, so you can clean and discard those you do not need.
In addition, we hope these tips will help you to keep your workspace clean and tidy. If you need a complete cleaning in your office, Quick Cleaning is your best option. Finally we recommend you our next post: Halloween Office Decoration Ideas.
Finally, Contact us and we will give you a free quote!
So, Call us at: 1-773-800-2524