Professional Christmas Restaurant Cleaning
Every business wants to increase sales. Professional Christmas Restaurant Cleaning will help you achieve this, because a clean restaurant will make your diners feel more comfortable, they will feel more confident and they will recommend the place. This increases during the holiday season, because people are looking for a place to have their end of the year gatherings. Take advantage of the season and consolidate your cleaning by hiring a restaurant cleaning service in Chicago.
Contact us and we will give you a free quote! - 24 hour service
Well-trained waiters are a must. However, some businesses forget that the waiter is the company's calling card to the customer.
Lack of attention and education, absolute ignorance of dishes and drinks, inability to solve problems, slow service… all this does not help your restaurant to create an image of quality and professionalism. To start we recommend the following post: Restaurant Cleaning Is A Priority.
In addition, you need to first make sure that they have a good presentation (It can be with Christmas theme) and that they know the basic knowledge of your campaign.
This Christmas include vegetarian and gluten-free menus, trends indicate that more and more people are suffering from food intolerances or choosing a healthier or more sustainable style of eating. We must respect these preferences and make sure they have special dishes adapted to their tastes. 
Including these dishes to your menu will make your customers increase and consider your restaurant, a restaurant that is continuously working on its customers and trends.
And let's not forget that a celiac or vegetarian also has the right to a delicious Christmas meal. Give a little imagination to those special dishes to make them at least as appetizing as the normal menus. Additionally and to complement your search, we want to recommend: How To Pass a Restaurant Health Inspection.
The biggest complaint from customers at Christmas is about the lack of hygiene in bathrooms and toilets. It is normal that with the increased traffic of people during the holidays, the use of these is intensified. Toilets are a critical point for the customer. If they are in bad condition, they will almost certainly not return. If the restaurant is not able to keep the bathrooms clean, it will not put much effort in the hygiene of other areas such as the kitchen.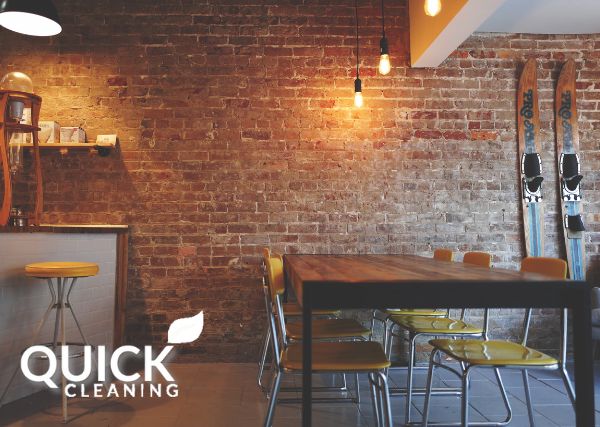 That is why we recommend you to hire a restaurant cleaning service in Chicago. Finally, we recommend the following post: How to Clean After Cooking.
Quick Cleaning is your best option!
We offer our services 24 hours a day, 7 days a week.
Contact us and we will give you a free quote! – 24 hour service
Don't think twice!