If there is one thing that is difficult to remove is grease. Grease stains can stay in a place for a long time. Most of this happens in the kitchen but some other places can have them as well. As a local cleaning company, we are aware of how difficult removing these stains is. For this reason, we have a great guide for you today. Today we give you the best tips on how to clean grease. Follow these handy tips to remove those difficult grease stains.
Stains on Pantry Doors
The most common place to find grease stains is on pantry doors. When we are cooking a lot of oil splatters around the kitchen. Hence, the stains on pantry doors. In our personal opinion, we have two recommendations. You can begin by cleaning it yourself. Mixing soap in a bowl with other green cleaning products can help. The important factor for this to work is to do it often. You need to wipe your pantry doors weekly. Although, if you don't have a lot of free time you can opt for hiring a Cleaning Service. Hiring a weekly cleaning company can do this process for you. Call your local cleaning company and let them take care of this.
How to Clean Grease Stains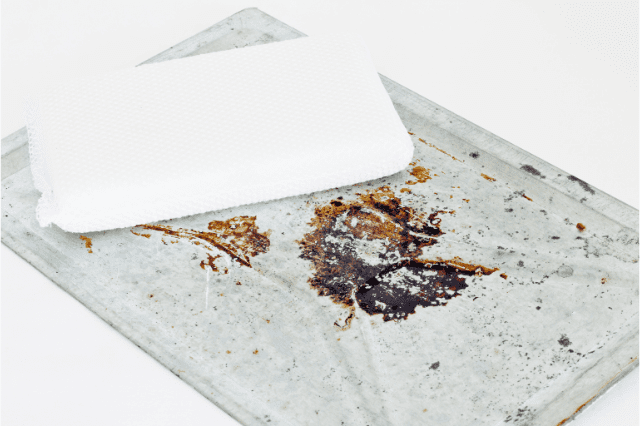 Microwave Stains
Microwave stains are also very common. Most of the time we heat something but never wipe the inside. Grease and other things start to accumulate. The best way to clean a microwave is to unplug it first, of course. Remove the platter and give it a good wash and rinse. After that, with your favorite cleaning products, wipe the inside. It is important to use a good-smelling product so the accumulated smells go away. By the way, most cleaning companies also offer appliance cleaning. If you think your microwave might get damaged with a DIY cleaning, don't worry. Leave it to professionals with experience on how to clean grease.
Overhead Filter
The last part and the most difficult one to clean is the overhead filter. This is the most overlooked place of all. Forgetting to clean it can be common but it is quick if done often. As always, unplug anything from it. Take a good sponge or cloth. Mix your products in a bowl with hot water. Hot water will make this process way easier. Once everything is good to go, scrub it nice. You'll see how fast the grease starts to fade away.
As you can see these tips are quick and handy. Doing them often can make a huge difference. Try to do this at least once a week or as we mentioned before, ask for help. There's nothing wrong with asking a cleaning service to help you. They are there for you. If you have any more questions remember to contact us. We'll be happy to help!