Multi-Tenant Office Cleaning Guide
Today the office spectrum has grown a lot. While in the past hearing the word office used to mean a large building for a company, today it is different. Now it has become fashionable to rent coworking spaces. In such places, it is common for there to be different people in charge. They all need different things to work with. One of the most common problems is cleaning an office with several tenants. This is especially true when many companies work in the same building and have different work areas. If you, as a landlord, are concerned about this. Worried about whether you are offering the cleanest space to your office, don't worry. Quick Cleaning is the best Office Cleaning Services Chicago and has it all covered and that is why we bring you our reliable Multi-tenant Office Cleaning Guide.
Contact us now and get your free quote - 24/7 Service
Working together as a team is the key
The reality and one of the biggest obstacles you may face in this environment is teamwork. Not within your company, but with others. Typically, they may not all agree on some ideas. The first thing to bring up is the benefits for everyone. A good cleaning at the hands of a good Office Cleaning Near Me will create a better environment around the building.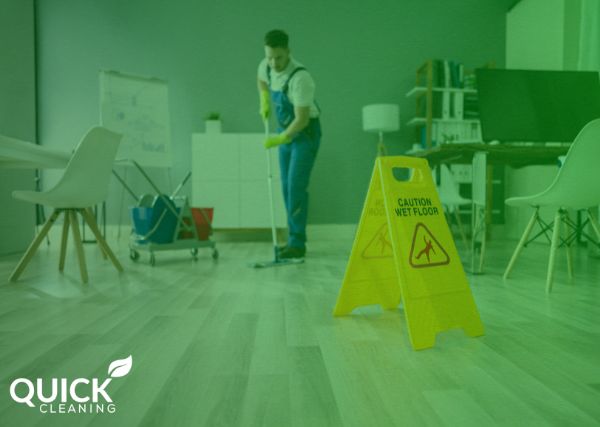 Hiring a good cleaning service can be a big help. Since the owners of a company often have different schedules, why not take the initiative and look for an office cleaning service? The other tenants will thank you when they see what you can find.
To get started we recommend: Office Cleaning During The Winter Months.
Clean office is a safe space
Since we are talking about spaces where different companies share common areas, tenants need to understand the importance of this. Especially in this day and age when a clean office equals a safer workspace. Don't hesitate for a second to hire an Office Cleaning Chicago. They will make your life easier and take a huge burden off your shoulders.
Offices that function as a community often require more extensive work. This can be taken care of by a Cleaning Service. A company that understands what its customers want. And also thinking about the number of people who work there. Multi-tenant offices often have 60 or more employees. 
Additionally we recommend: Improve Your Office Performance With Cleaning.
Communication is everything in teamwork
Cleaning in a multi-tenant office will require a different approach and the need to follow certain guidelines. Everyone must be in agreement that the expected work will be done. That is why communication is so important. It will be an easy task if done with enthusiasm. And open to any suggestions from the other tenants.