The cleanliness of a gym is essential for a quality service. How many people pass through your gym every day? Here are some tips for cleaning a gym. More and more people are choosing to live a fitness lifestyle and going to the gym, and the industry is becoming more competitive than ever, offering innovative rates and services such as 24-hour gyms. It is essential to distinguish your personal brand by high standards that attract more customers. And one of them is very relevant is the cleanliness of the gym.
Contact us now and get your free quote! - 24 hour service
Clean thoroughly to avoid risks
In an enclosed space like a gym we find the perfect place for disease transmission because throughout the day countless users pass through the facilities. The cleaning of a gym must be exhaustive and, in this way, it will be the only solution to prevent the transmission of diseases. 
Sweat from physical activity eventually comes into contact with the sports equipment. In addition, each gym offers different services. Facilities such as showers, saunas or swimming pools are even more conducive to potential pathogenic organisms than machine rooms. To get started we recommend the following post: Gym Cleaning Procedure.
Hire a gym cleaning service in Chicago
To eliminate all these potential hygienic hazards, it is essential to hire a gym cleaning service in chicago. Keeping your gym clean will not only prevent possible risks of contagion among your clients. It will also have a positive impact on your image: users will feel comfortable and safe while using your facilities. Additionally we recommend the following post: Tips For Your Gym's Christmas Campaign.
Professional cleaning is necessary
Hiring a gym cleaning service is essential to gain the trust of your clients. Would you work out in a place that smells horrible? Differentiate yourself with a gym that is fresh and smells pleasant at all times, it is very difficult to achieve this without a professional cleaning service. Adapt to the new trends that are driving gyms towards daily hygiene.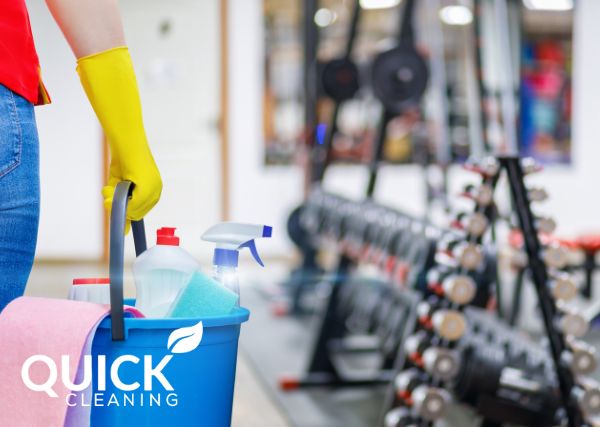 Are you looking for a cleaning service that fits your restaurant's schedule this holiday season? Finally we recommend the following post: The Importance Of Music For Work.
Take advantage of this holiday season to increase sales and hire the best cleaning service in Chicago. There is no better way to increase sales than with a safe, clean and fresh place.
Quick Cleaning is the service you need. Our service is available 24 hours a day, 7 days a week. We have over 10 years of experience.
So, Contact us now and get your free quote! Call us at: 1-773-800-2524