Best Places To Move To During Summer In Illinois
Summer is the best time to move. People just love the weather. Kids are out of school. In general, it is the best time to plan and do a move. We have focused a lot on Chicago in all of our posts. But as a cleaning company that has served Chicago and its surroundings for a decade, we know well which places are good for people. And in this case, we are talking about the best places to move to during summer in Illinois. If you want to learn all about the best places in Illinois and what they have to offer, read on! You'll surely find one that suits and fits your needs.
While not a lot of people hear of this place on Social Media, it is one of the best places to move to during summer in Illinois. With around 50,000 residents and a 49% rating of safety, all people are happy to live here. What makes Mount Prospect shine amongst the other places is that it has the diversity you will find in Chicago, but in a smaller and cozier place. For parents who are looking for good public schools, this place has them. And for the young at heart, the nightlife is also quite good.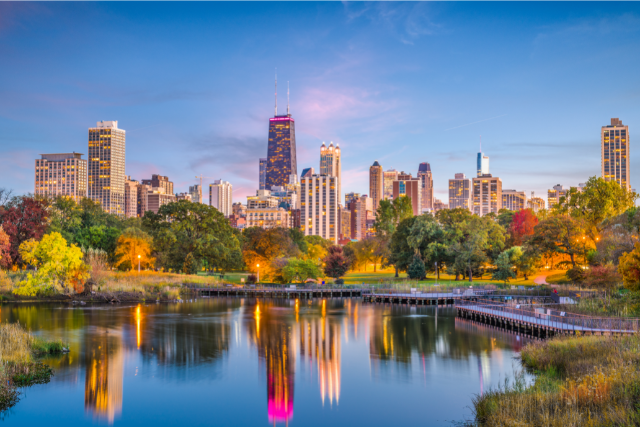 This town is a bit bigger than the former. It houses a population of around 76 to 80 thousand people. While the schools do not rank as high as other towns, that isn't a reason to make people go away. People who live here have a slightly better median income than in any other city in the state. This is something great for families who want to settle down in a quiet place that has a good income for them. Security isn't bad and kids can go outside to ride their bikes or go to the many public spots this town has.
Now, moving on the another one of the best places to move to during summer in Illinois. Northbrook is one name that you've probably heard of in the past. Northbrook can be considered a village, yet, do not let that fool you. It has a lot of people living there and a lot of things to do. This village has one of the highest-rated schools in the public system in all of Illinois. With one of the highest graduation rates in the state. Plus, this town has one of the lowest rates of unemployment. It is really a great village to settle down in Illinois for those visiting the state for the first time. Great for kids who need a school and perfect for parents looking for work.
This place appears in almost all guides that talk about the best cities in Illinois. What is the reason though? Well, it has the full package. It is a safe city. Number eight in the state's ranking. The public school system is amazing. It has a really small population which is good for families that want their kids to socialize. There is only one downside, this place is a bit more expensive than the others. Since the town is quite small, that means spots are scarce. So, when one place opens for a family to move in, it is on. However, it is one of the greatest places to live for those people who want a quiet and relaxing life in the suburbs.
If you want a place that is full of other families to interact with, you've found it. With a population of around 40 thousand people, at least half of them have families. This is great for those who love hanging out with other parents and getting their kids to socialize. On the other plus side, this place is cheaper to live in. This place is also known for having the highest childcare rate. So, if you need a babysitter, you're set. Oh, and for those kids about to graduate from high school, the graduation rate is 96%. Good numbers if we say so ourselves.
Oak Park, is a personal favorite. We've been doing a lot of cleaning for those looking to set for their move-out inspection. And we can say one thing, what a place to move to. Established in Cook County, this place is just one of the most coveted lives in Illinois. Oak Park has an A+ rating when it comes to education. People just love sending their kids to school there. Also, it isn't far from Chicago at all. So if you want to be close to the action while living in a quiet and safe place, Oak Park is your best option.
Are you a fan of Star Wars? Well, if you are, you're in for a hoot. Han Solo was born here. Well, not the character, but the actor. Yes, it is the place that saw Harrison Ford was born. However, that isn't the only thing this place is good for. Close to Chicago, it offers a lot of things to do. This neighborhood has a population of almost 40 thousand people. And while it isn't as big as others, it has a lot of nice things to do. It is a bit on the expensive side of neighborhoods but that should not keep you away from considering moving here.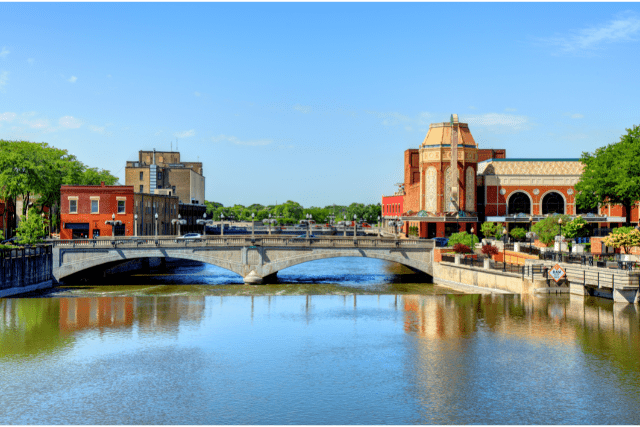 Entering our top 5, we have Glenview. A really big contender for the best places to move to during summer in Illinois. This place just has it all. 4.6 unemployment rate. The most parks you'll find in all of Illinois. Something that families with kids or pets will appreciate. It does stand as one of the most expensive places in Illinois, but the income isn't bad at all. So, things are really balanced. Oh yes, it also has one of the best community centers in the state. So, if you are looking for something to do with your kids, you'll surely find it here.
On our number 4 spot, we have Wheaton. One of the greatest places to live in Illinois. This place has had a 9/10 ranking in its public schools. The unemployment rate is as low as 5.1. It is a dream haven for people who want a place with good schools and a lot of work. The income isn't bad at all either. Oh yes, the open spaces in this place are just awesome. If you are looking for parks to play with your family, you'll find them here. Truly a place where any family can settle down to live a relaxing life.
On our Top 3, we have Buffalo Grove. One of the best places to live in all of Illinois. While it has a bit more than 40 thousand residents, do not let that fool you, the town is bustling with things to do. Also, for all families, this place is one of the safest in the whole country. And for the cherry on top, it has a 95% graduation rate in high schools. Something that parents are always looking for in their kids. It is a bit expensive and suffers from a bigger unemployment rate, but it is definitely an amazing place to live in.
Our second place goes to Springfield. The capital of Illinois. It is a very accessible city to live in. It houses three great universities and it has a lot of diversity too. It has a great nightlife for those who want to go out and those who like the cultural side a bit more. But, kids can also have fun. It has some great fun parks as well. Springfield is a city where people just love to live in.
And finally, our #1 spot goes to, Naperville! What a place to live. It is on the fancy side though. People who want to live here need a big paycheck to match the living costs. However, it has it all. More than 100 parks and a lot of shopping districts. The residents are mostly college graduates so it might not be the best for families with kids. Yet, it is one of those places that people are always looking for to get a house in.
And that is our list. Which one of these cities calls out to you? Remember that we do move-out and move-in cleaning in Chicago and its surroundings. So, if you need help with your moving day, call us! We'll be there to help!