Daycare centers are wonderful places. Full of excitement and joy. People love working in them. And as parents, we love having our children interact with others in them. However, there is one aspect of daycare centers that may not be so much fun. Cleanliness. If you have a daycare you should consider hiring a commercial cleaning chicago. Today we bring you a guide to daycare cleaning. 
Contact us now and get your free quote! - 24 hour service
What needs to be cleaned?
Daycare centers get a lot of use. Children, caregivers, everyone uses it. Also, there are so many items that it's hard to choose where to start and with what. Let's go over the basics. To get you started we recommend the following post: Guide To Daycare Cleaning In 2022.
Kids love to play with toys and why shouldn't they? Keeping them clean ensures that they won't share any germs with each other. Children are in constant contact with surfaces, so it's important to keep them as clean and disinfected as possible. Tables are one of the biggest sources of bacteria and germs. Also, keep them clean for the kids and for you.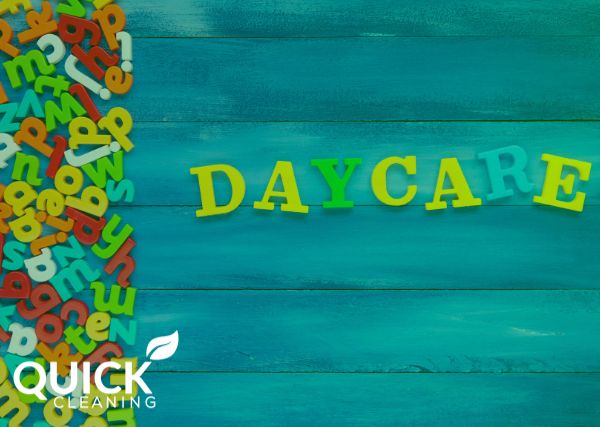 Most parents are concerned about how often to clean a day care center. The answer will depend on the area of cleanliness. In the case of the ones we mentioned above, it may be done daily by the people who work there. But what about deep cleaning? For that, it is great to book a commercial cleaning contractors chicago. 
There are many cleaning services, but only a few are experts in commercial cleaning services in chicago. Contact your local ones to see which ones offer daycare cleaning services. In addition, you need experts to clean the place in a guaranteed way, in a daycare center any mistake can take away all the trust you have generated in your clients.
At Quick Cleaning we have over 10 years of experience cleaning industries in Chicago. We offer 24 hour a day service. Finally we recommend you this post: Hygiene In Daycare Centers.
Our cleaning experts clean with environmentally friendly products. Finally, Don't hesitate and contact us at 1-773-800-2524.
We will give you a free estimate!