Dental Office Cleaning Checklist
Virtually all companies have changed in recent years. At least in the way they operate. Dental practices are no exception. Many regulations have emerged to ensure a safer place for patients and employees. Keeping track of what needs to be cleaned can be a bit daunting. That's why today we bring you a dental office cleaning checklist. Presented by commercial cleaning experts. Also, you can rest easy knowing these tips will help. The best cleaning option for your dental office is to hire a Dental Office Cleaning Chicago.
So, Contact us now and get your free quote! - 24/7 Service
Clean High-Trafficked Areas
A dental clinic receives many patients throughout the day. Most of them stay there waiting for their appointment. Others come to ask for information. There is always a lot of traffic in these areas. Keeping them clean is the first and best thing to do. When it comes to these areas, the most common are the reception and waiting area. Clean them often. These places need to be cleaned at least daily. You can do it at the end of the day. Before closing. Hire a Dental Office Cleaning Services Chicago and ensure hygiene in your office.
To get started, we recommend: 4 Dental Office Cleaning Tips To Keep Your Patients Happy.
People use bathrooms all the time. Both patients and peers. It is essential to keep an eye on bathrooms. As a cleaning company, we recommend cleaning them two or three times a day. Whenever there's not a lot of people take time to clean these rooms. Also, after all, people use them. In addition, keeping them clean will improve the overall look of your dental office.
Additionally we recommend: Cleaning and Disinfection in your Dental Office.
Finally, Follow the regulations
Inside the office, there are a lot of regulations you have to follow. All of them from The Occupational Safety and Health Administration (OSHA). It is important that your office complies with them. Cleaning is important but complying is even more. 
In addition, try to have all things disinfected, clean, and ready to use.
Finally we recommend: Commercial cleaning procedures for every industry.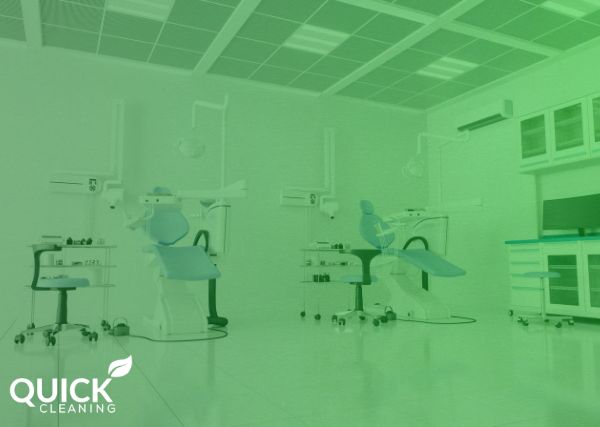 Following this dental office cleaning checklist can save you a lot of time, effort, and more. You can always contact your local commercial cleaners for help. It never hurts to ask for professional help. If you have any questions about cleaning your dental office feel free to call. We are here ready to help.
Quick Cleaning is the best Dental Office Cleaning In Chicago! Contact us now and get your free quote!
Call us at: 1-773-800-2524