Cleaning And Disinfection Guide For Commercial Premises
In the first place, businesses are reopening and it is important to maintain safe spaces to avoid the spread of the COVID-19 virus. At quick cleaning we created for you the cleaning and disinfection guide for your commercial premises.
Contact us now and get your free quote!
Specify the areas that have not been frequented with respect to others in the last 7 days so that you can clean routinely, however, the busiest areas should maintain stricter cleaning protocols.
Also, once you segment which areas are the busiest, determine the degree of intensity of cleaning and disinfection.
Also, research which products are best suited to your space, the health certifications it has and the effectiveness of the product.
In addition, the dining area is a space where workers share a relaxed time. However, they also share items such as scouring pads and, with it, the possibility of transferring bacteria from one surface to another.
Analyze, evaluate and correct
Once you have executed the action plan, periodically check if the established activities and rules have been followed, if the areas have been sanitized, etc.
Also, if not, make the appropriate adjustments to minimize the risk of contagion. Before disinfecting, clean the area of dirty surfaces with soap and water.Once the space is clean, continue with the disinfection.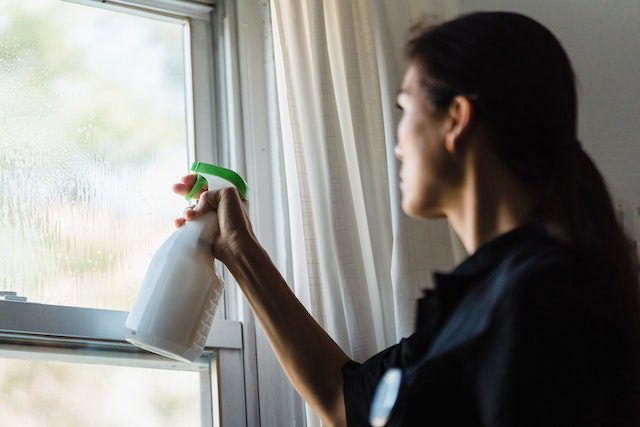 Personal hygiene is a very necessary action to prevent contagion. To encourage it, it is recommended to place hydroalcoholic gel dispensers at strategic points and offer bottles of hand sanitizers to workers.
In addition, organizations can also provide staff with disposable masks during the working day.
Avoid physical contact, maintain social distance as much as possible, use mouth covers and wash your hands frequently.
Hire a professional cleaning service
Finally, Quick Cleaning is the option you need
Contact us now and get your free quote!
Call us at: 1-773-800-2524