The evolution of office cleaning outsourcing
Today, companies owe it to their customers, regardless of whether they sell a product or a service, it is of utmost importance how the customer sees and perceives them. The evolution of office cleaning outsourcing has been so relevant that cleaning companies have had to evolve their limitations. If you don't have an Office Cleaning Services Chicago, you need to start thinking about hiring one.
Contact us now and get your free quote! - 24 hour service
Maintaining order and cleanliness
Keeping a space or office clean is something that can easily be neglected, especially if you don't have the support of an Office Cleaning Chicago. A clean office will not only give a good first impression to clients and visitors. But it will also help every employee feel comfortable in a pleasant environment, and this, according to studies, makes them more productive.
Furthermore, it is important to have the necessary considerations for the health of all employees, since a dirty environment can influence illnesses. An office desk has more germs than the toilet in a bathroom and these easily spread to the rest of the environments. To start we recommend the following post: Hourly Office Cleaning Service.
Tips for you to keep your facilities and offices clean
Involve every employee in the process: Everyone should be responsible for putting trash in its place, washing their own eating utensils, and having a neat and clean desk.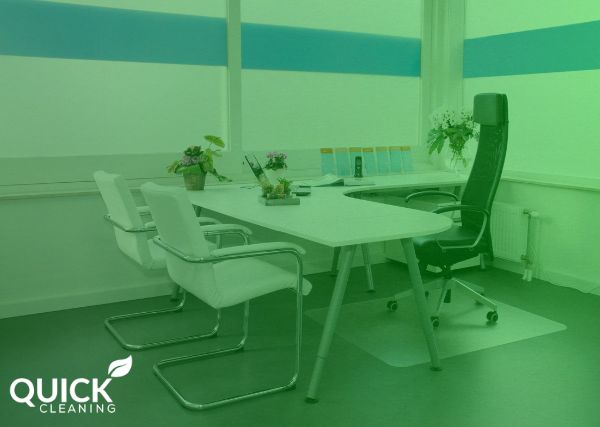 Keep cleaning supplies in the office: It is important to keep cleaning supplies to a minimum and store them in a specific, easily accessible place to ensure that everyone can use them when something is spilled. Ensure the cleanliness of your office by relying on an Office Cleaning Near Me, so you can focus your time on other aspects of your office.
Additionally we recommend the following post: Correct Office Cleaning.
-Weekly cleanings in the most critical points: The objects of common use usually have more accumulation of germs and bacteria, among them are the telephones. So we recommend doing deeper cleanings periodically.
By delegating cleaning services to experts. You will have the assurance that the spaces and offices are always clean and disinfected, eliminating germs and bacteria that regularly hide on the surfaces of floors and desks. Finally we recommend the following post: Reduce Office Cleaning Costs.
Quick Cleaning is the best Same Day Cleaning Office Cleaning Chicago. We have more than 10 years of experience, always cleaning with environmentally friendly products.
Our service is available 24 hours a day. Contact us now and get your free quote! Call us at: 1-773-800-2524