The Importance Of Restaurant Cleaning
The maintenance of hygiene and cleanliness levels are key to properly manage a restaurant. The importance of restaurant cleaning should be reflected by having a guaranteed cleanliness at all times. The only way to avoid this is to hire a Restaurant Cleaning In Chicago. Avoid problems such as complaints or physical accidents.
So, Contact us now and get your free quote! - 24/7 Service
Benefits of maintaining restaurant cleanliness
We will be able to preserve food in better conditions if optimal levels of hygiene are achieved.
We will avoid possible contamination or intoxication of diners or customers. A classic example produced by poor hygiene is the spread of salmonellosis.
We will keep under control possible pests such as cockroaches, mice or ants.
We will improve the image of the restaurant in the eyes of diners.
The kitchen will be a safe place in which it will be much more difficult for situations such as fires caused by flammable products coming into contact with substances such as grease or cleaning products. Also, Maintaining cleanliness in restaurants is a very complicated task, you will need support! Hire a Restaurant Cleaning Services Chicago !
Frequency of cleaning in the restaurant areas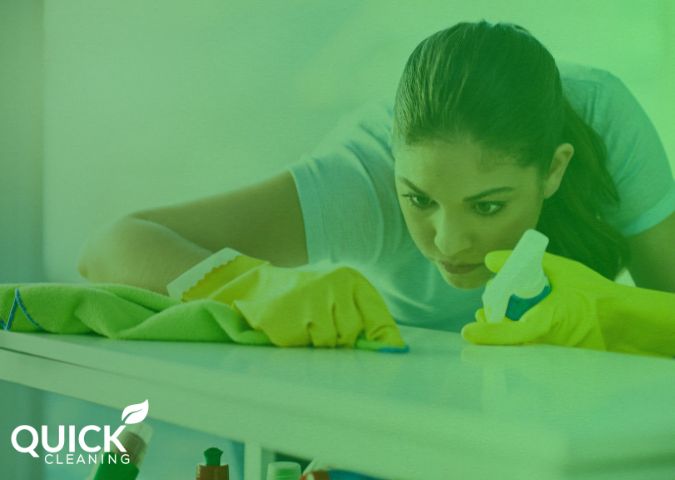 Daily: Every day you should proceed with the cleaning of appliances such as sinks, refrigerators, hoods, ovens and countertops. This also includes all types of utensils, such as cutlery, crockery, etc., which should be disinfected and cleaned frequently to avoid the risk of cross-contamination. Cross-contamination is the process by which food comes into contact with foreign substances, generally harmful to health. In addition, Avoid cross contamination by relying on a Restaurant Cleaning Chicago!
Weekly: Every week there should be a more extensive cleaning of the entire perimeter of the restaurant including cleaning of walls, tables and chairs, bar, glass, windows. We must also include reviews and environmental health services aimed at eliminating possible pests. Also, The elements that are composed of several pieces, such as fryers or microwaves, should be washed once disassembled in order to reach all areas and make a deeper and more effective cleaning.
Additionally we recommend: Get Your Restaurant Ready For Christmas.
Quick Cleaning is the service you need ! Contact us now and get your free quote. We have more than 10 years of experience cleaning and we always make sure our work is impeccable. Plus, enjoy our easy hiring process! No contracts required!
Call us: 1-773-800-2524
Finally, we recommend this post: Restaurant Cleaning Is A Priority.